TTIP Activism
UK public: You are amazing.
War on Want and our partners in the No TTIP Coalition have been overwhelmed with your enthusiasm to take on TTIP.
You've been outraged by this latest chapter in the global attack on democracy and basic hard won rights, institutions and standards.
Your demand for materials and speakers for your local campaigning has been relentless. This is a good thing! We're trying to provide you with all the resources you need to make TTIP a big deal in your area. We've done so many reprints! Thanks for your donations towards this.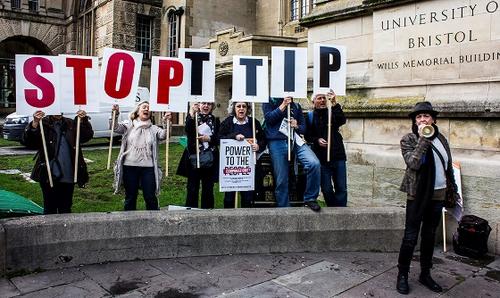 We are keen to connect you with others on the War on Want mailing list in your area - who also care about fighting TTIP. If you:
Are already involved in local TTIP campaigning and want to let others in your area know or
Are keen to get involved in local TTIP campaigning, but dont know others in your area
Would like help in promoting a TTIP related event you are holding
 Do get in touch! Email us and let us know:
Where you live and importantly if you want to get involved in others' activities
Where you would be willing to travel to, i.e which neighbouring towns and cities, to participate in a TTIP related event
You can also order TTIP reports, briefings, stickers, badges & more via our website for your events, workplace, local group, trade union branch or college.
We have successfully fought off these trade deals before. In the 1990s we defeated the Multilateral Agreement on Investment. We saw off the same powers when they were introduced to the World Trade Organisation. Thousands of people around Europe and the US are fighting TTIP.
Together, we can win this one.
Join the conversation
RT @WarOnWant: The city authorities in Durban are violently and illegally evicting people during the Covid-19 pandemic. Take actio… https://t.co/OzmcQwnljy
—
20 hours 44 min ago
Tell hospitality and fast food companies to stand with their workers during the Covid-19 crisis. Workers deserve… https://t.co/oC21ooaVPa
—
1 day 18 hours ago
Stand in solidarity with the shack dwellers: sign the petition to end the evictions! https://t.co/nMWzYIBk7c
—
1 day 23 hours ago