Private Military and Security Companies are profiting from war and insecurity. Hired by governments and companies to perform operations previously carried out by national military forces, private military and security companies are the modern equivalent of mercenaries: armed civilians operating for profit in conflict zones. War on Want is campaigning to hold them to account.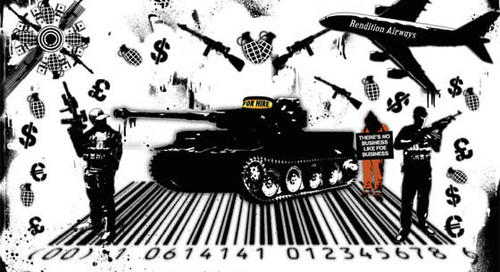 Why do we need to control Private Military and Security Companies?
The dangers of privatising the use of violence in war zones has been clearly illustrated by the repeated human rights abuses perpetrated by mercenaries, including the indiscriminate killing of civilians and torture. Unaccountable and unregulated, these companies are complicit in human rights abuses across the world, putting profit before people and fanning the flames of war.
In 2007, in a well documented incident in Iraq, contractors from Blackwater, a US-based PMSC, massacred 17 civilians in Baghdad
British company ArmorGroup, now owned by G4S, was the focus of a US Senate inquiry in 2010 because of its operations in Afghanistan, facing allegations that their security recruits "threatened to attack Afghan Ministry of Defence personnel."
In Somalia, security company Saracen International has been training 'anti-piracy' forces. But according to the UN, in 2011 it violated UN arms embargoes while arming and training militias.
Why is the government letting these companies police themselves?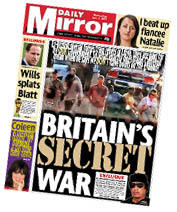 The disturbing truth is that the UK government has now fully embraced the concept of outsourcing security and privatising war. Ministers believe PMSCs are best left to police themselves through national standards and an International Code of Conduct, which they intend to launch in a matter of months. But these measures represent the lightest of light touch voluntary self-regulation.
Such moves will not enable governments or communities to hold these companies to account, as voluntary codes have a track record in failing to stop corporate abuse. Instead they will be used by companies to legitimise the industry, and will stand in the way of proper controls.
What can we do to stop the privatisation of war?
War on Want has led the call on the UK government to end the privatisation of war and to put in place decisive controls over this deadly industry. The government has agreed to review these voluntary codes three years after their introduction. This means we now have a window of opportunity to prove to the  government that voluntary codes are weak and ineffective and that this deadly industry needs proper controls to force companies to put people before profit. We need your support to build awareness of this secretive industry.
Join the conversation
"Let's come together to defend our multicultural society from those who spread hatred and division." We've signed t… https://t.co/kyRa5uUhDx
—
2 hours 22 min ago
The US withdrawal from the #UNHRC highlights the US government's ongoing legacy of disdain for multilateral approac… https://t.co/W6V5RA7skm
—
3 hours 6 min ago