In-work poverty condemned – four million workers in poverty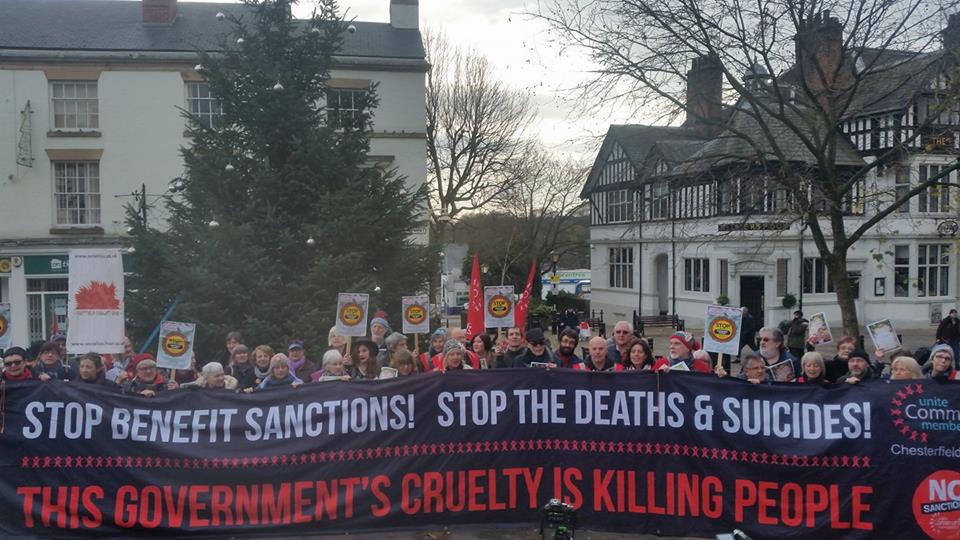 Photo: Chesterfields Trades Council
They said:
"In our society there are now almost four million workers in poverty, a rise of over half a million compared with five years ago and the highest number on record. The employment rate is also at a record high, but this has not delivered lower poverty."
They identify the drivers as low-paid work, high housing costs and cuts to benefits and tax credits. It is an issue which particularly affects working parents:
"the rise in in-work poverty has been driven almost entirely by the increase in the poverty rate of working parents, which has grown over the past five years."
They highlight sectors that are particularly affected. 
"Workers in four types of industry have particularly high rates of poverty: accommodation and food services (25%), agriculture, forestry and fishing (23%) administrative and support services"
Highly profitable companies like McDonald's, Wetherspoons, Amazon and TGI Fridays are failing to pay their staff a real living wage. But workers are coming together into trade unions to demand a living wage of £10 an hour, and an end to precarious contracts and for their right to a union to be respected.
"The government says work is the solution to poverty and points to record employment rates as evidence that the country is going in the right direction. But being in employment does not magically overcome poverty."
He also challenged Universal Credit
"…many claimants also feel that they are forced to jump through hoops for the sake of it, fill out pointless job applications for positions that do not match their qualifications, and take inappropriate low-paid, temporary work just to avoid debilitating sanctions. "
He concluded by saying that austerity and the continuation of poverty were a political choice:
"The experience of the United Kingdom, especially since 2010, underscores the conclusion that poverty is a political choice. Austerity could easily have spared the poor, if the political will had existed to do so. Resources were available to the Treasury at the last budget that could have transformed the situation of millions of people living in poverty, but the political choice was made to fund tax cuts for the wealthy instead."
Owen Espley, Senior Economic Justice Campaigner at War on Want said:
"The missing link between rising in-work poverty and low unemployment is the rise of insecure work. Far from providing the flexibility to fit work around family, too many workers live under the constant threat of losing the hours they need to survive. This power imbalance results in low wages, and low productivity. With workers on precarious contracts seen as disposable, employers have too little incentive to invest in training and upskilling. This is made worse by benefits sanctions which compel workers to accept poor quality work.  It's time to end precarious contracts. Four million workers living in poverty despite having jobs, is four million too many."
#SolveUKPoverty #EndPrecariousContracts
Here's what we had to say last year about the claim that zero-hour contracts work for families. 
Join the conversation
RT @WarOnWant: The city authorities in Durban are violently and illegally evicting people during the Covid-19 pandemic. Take actio… https://t.co/OzmcQwnljy
—
20 hours 59 min ago
Tell hospitality and fast food companies to stand with their workers during the Covid-19 crisis. Workers deserve… https://t.co/oC21ooaVPa
—
1 day 18 hours ago
Stand in solidarity with the shack dwellers: sign the petition to end the evictions! https://t.co/nMWzYIBk7c
—
2 days 14 min ago