UN Inquiry on Gaza protests finds Israel's repression unlawful
28 February 2019 - 11:15am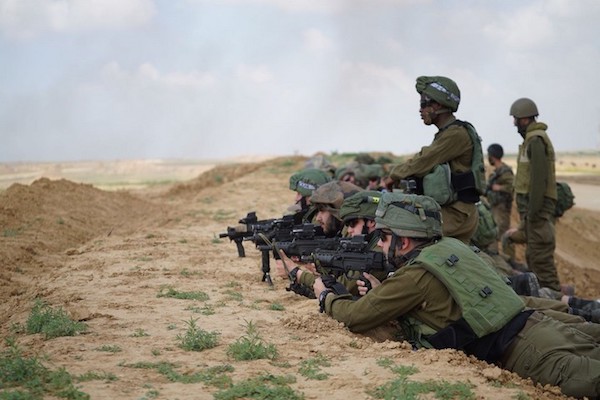 Today an Independent Commission of Inquiry, mandated by the UN Human Rights Council to investigate the use of force in the context of Palestinian protests in Gaza, has reported that there is no justification for Israel to shoot Palestinian protestors with live ammunition, and that in doing so, Israeli forces committed grave violations of international law which constitute war crimes or crimes against humanity.
Responding to the report, War on Want's Senior Campaigner on Militarism and Security, Ryvka Barnard, said:
"Week on week since March last year, Palestinians have protested against the illegal blockade of the Gaza Strip, demanding the implementation of their right of return, guaranteed to them under international law. And week on week, Israeli forces have deliberately killed civilians, including children, journalists, and medical workers. These killings constitute a war crime under international law. 
Despite major concerns from human rights groups, the UN, and the International Criminal Courts, and despite urgent questions raised by MPs from across the political spectrum, the UK Government has continued to trade in arms with Israel, providing material support to a state which uses military force brutally and unlawfully against an occupied people. 
Just last week, the UK Government took steps to strengthen this relationship by signing a trade agreement with Israel. Any reference in the trade agreement to human rights is absurd, and shows how little importance either side places on it; the agreement was signed as Israel's crimes against the Palestinian people were being investigated, the evidence of which will now be passed on to the International Criminal Court.
The UK Government has an obligation to act; it must stop trading arms with a state found to be committing war crimes that are both historic and ongoing. If the UK Government is really committed to international law and human rights, it must stop arming Israel now."
The UK Government abstained on the vote calling for the Independent Commission last May, and instead called on Israel to conduct its own investigation. The move was widely condemned by MPs at the time, as human rights experts have continuously raised doubts about Israel's willingness to conduct credible and honest investigations of its military actions and policies. This doubt was reiterated in the Commission's report, noting that Israel has failed to do so in the past. The Government of Israel also refused to cooperate with this investigation, and refused the investigators access to Israel or the Occupied Palestinian Territory.
Amongst its recommendations, the Commission of Inquiry report suggested that UN member states consider imposing sanctions on those responsible for violations, including those who have drafted and approved Israel's military rules of engagement, which allow for shooting unarmed civilians.
The Independent Commission of Inquiry will release its full report in the coming weeks as the Human Rights Council meets in Geneva.
Ryvka Barnard is available for interview on request. Contact War on Want media at media@waronwant.org or 07983 550 728.
---
Notes to editors:
Join the conversation
RT @WarOnWant: The city authorities in Durban are violently and illegally evicting people during the Covid-19 pandemic. Take actio… https://t.co/OzmcQwnljy
—
20 hours 31 min ago
Tell hospitality and fast food companies to stand with their workers during the Covid-19 crisis. Workers deserve… https://t.co/oC21ooaVPa
—
1 day 18 hours ago
Stand in solidarity with the shack dwellers: sign the petition to end the evictions! https://t.co/nMWzYIBk7c
—
1 day 23 hours ago