'UK anti-poverty ministry hits poor'
8 September 2006 - 5:00pm
Millions paid from aid programme to US power firms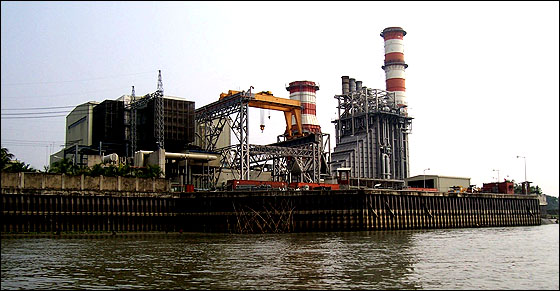 The government ministry that leads Britain's fight against global poverty is using millions of pounds in taxpayers' money for electricity privatisation which raises prices beyond the pockets of the poor.
This charge came today from the charity War on Want in a new report on the power company Globeleq, which is wholly owned by the Department for International Development (DFID) through CDC, its private sector promotion arm. Globeleq has paid hundreds of millions of pounds to US power firms that wanted to withdraw from the developing world. Two such companies, AES and El Paso, have benefited by over US$1 billion.
One in four of the world's population, or 1.6 billion people, lack access to electricity - two-thirds of them in Asia, with most of the rest in sub-Saharan Africa. The International Energy Agency estimates that electricity services must be rolled out to a further 600 million people by 2015 in order to meet the UN Millennium Development Goal of halving the proportion of people living on less than a dollar a day.
Globeleq operates in 16 countries in Africa, Asia and Latin America. It is pursuing further acquisitions in a bid to be 'the fastest growing power company in the emerging markets'. But, according to the report, rather than helping to widen electricity coverage to poor communities, privatisation has brought sharp tariff increases which many people cannot afford. Since Globeleq took over the national grid in Uganda last year, domestic customers have faced price rises of 70 per cent for their electricity.
The arrival of multinational companies such as AES, Enron and EDF in developing countries during the 1990s saw dramatic price rises in electricity. When the Indian state of Maharashtra opened its power sector to Enron, this forced the state electricity board to extend farmers' tariffs by a crippling 400 per cent to meet extra costs. Electricity privatisation led to higher tariffs in the Dominican Republic and left the government with more than US$135 million in debts to private firms.
Last year international development secretary Hilary Benn said Britain would no longer make privatisation a condition of its assistance to developing countries. Yet 40 per cent of UK aid goes through multilateral institutions such as the International Monetary Fund (IMF) and the World Bank, which continue to impose harmful conditions such as privatisation.
World Bank commentators have admitted privatisation entails significant price rises and their impact will fall especially hard on the poor. Yet DFID has announced it will channel a record £1.3 billion of UK aid through the World Bank over the next three years.
War on Want Chief Executive Louise Richards said: "DFID's mandate is to reduce poverty. But the promotion of privatisation through initiatives like Globeleq hurts poor people. We call on the government to stop advancing the privatisation of public services and to help developing countries build genuine solutions to poverty.
"The British government last year promised to drop conditions such as privatisation on its overseas aid. Yet DFID has announced that it will channel a record £1.3 billion of UK assistance through the World Bank in the next three years. We urge the government to withhold its contributions to the World Bank and IMF until these institutions stop imposing harmful conditions such as privatisation on the poor."
---
CONTACT: Paul Collins, War on Want media officer (+44) (0)20 7549 0584 or (+44) (0)7983 550728
Join the conversation
RT @_YLNM: 'The mining industry has abused the pandemic to turn a profit, putting land and water protectors at greater risk of… https://t.co/MPm4xaN7Ah
—
1 hour 59 min ago
RT @ACLU: Cool tweet. Will you commit to stop selling face recognition surveillance technology that supercharges police abuse? https://t.co/DfnAhyw2PW
—
3 hours 9 min ago
The UK arms trade always serviced global oppression and occupation – no surprise that UK weapons are also used for… https://t.co/Cc2c4YsHxs
—
19 hours 20 min ago