South Africa Protests: State Violence Must End!
25 January 2018 - 11:30am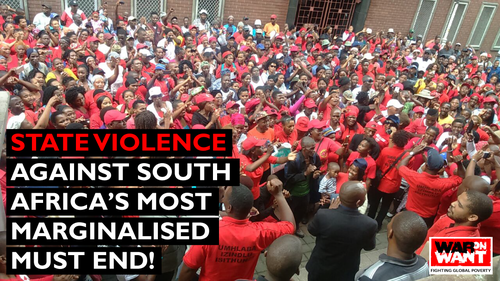 Thousands of shack dwellers from informal settlements in eThekwini (Durban), South Africa, took to the streets yesterday to protest the state sanctioned violence against landless and homeless people in South Africa. This protest comes after a wave of killings of Abahlali activists with five people, including a two-week old baby, killed in 2017 alone.
On 27 July 2017, War on Want's partner Abahlali baseMjondolo (the movement of shack dwellers) obtained a court order from the Durban High Court to legally prevent the ANC-led municipality from continuing with illegal and brutal evictions against seven informal settlements. However, the eThekwini municipality ignored the court order and has continued to carry out violent evictions – during which many people have suffered grievous gunshot injuries.
The violence acted out against Abahlali activists and their families has been deadly. In the last three years, at least eight Abahlali activists and members of their families have been killed.
Thuli Ndlovu was shot seven times at her KwaNdengezi home in Kwazulu Natal province, with her family and community present.
Nqobile Zuzua, a 17-year-old woman and Abahlali baseMjondolo activist, was shot in the back at a protest against evictions in Durban's Cato Crest informal settlement.
Nkululeko Gwala, a fellow activist for Abahlali baseMjondolo, was killed in Cato Crest.
Samuel Hloele was also brutally murdered by the police.
A two-week-old baby, Jayden Khoza, lost his life when the police attacked the Foreman Road settlement.
Abahlali's chairperson in the Sisonke Village land occupation in Lamontville, Sibonelo Mpeku, was kidnapped and murdered last year, as was Soyiso Nkqayini who was shot by unknown men in the eNkanini land occupation in Cato Manor.
Sandile Biyela, was killed while escaping a brutal police attack on the Solomon Mahlangu land occupation.
eThekwini has become a killing field of land rights defenders, gunned down for their fearless activism whilst the state turns a blind eye. The brutal Anti-Land Invasion Unit, hired by the state to carry out evictions, continues to act with brutal violence with complete impunity, as do the South African police. The state-sanctioned violence against the most marginalised of eThekwini must end. War on Want stands with its partners in South Africa, Housing Assembly, Abahlali base Mjondolo and Ubunye Bama Hostela, in their fight for decent housing and against state repression.
Saranel Benjamin, International Programmes Director, War on Want
Join the conversation
70% of the world experience poverty, 1 billion face hunger, millions face #climate catastrophe. Yet the UK uses ai… https://t.co/bmiLnf086e
—
11 hours 10 min ago