Ronnie Kasrils: 'Legacies of the Anti-Apartheid Movement'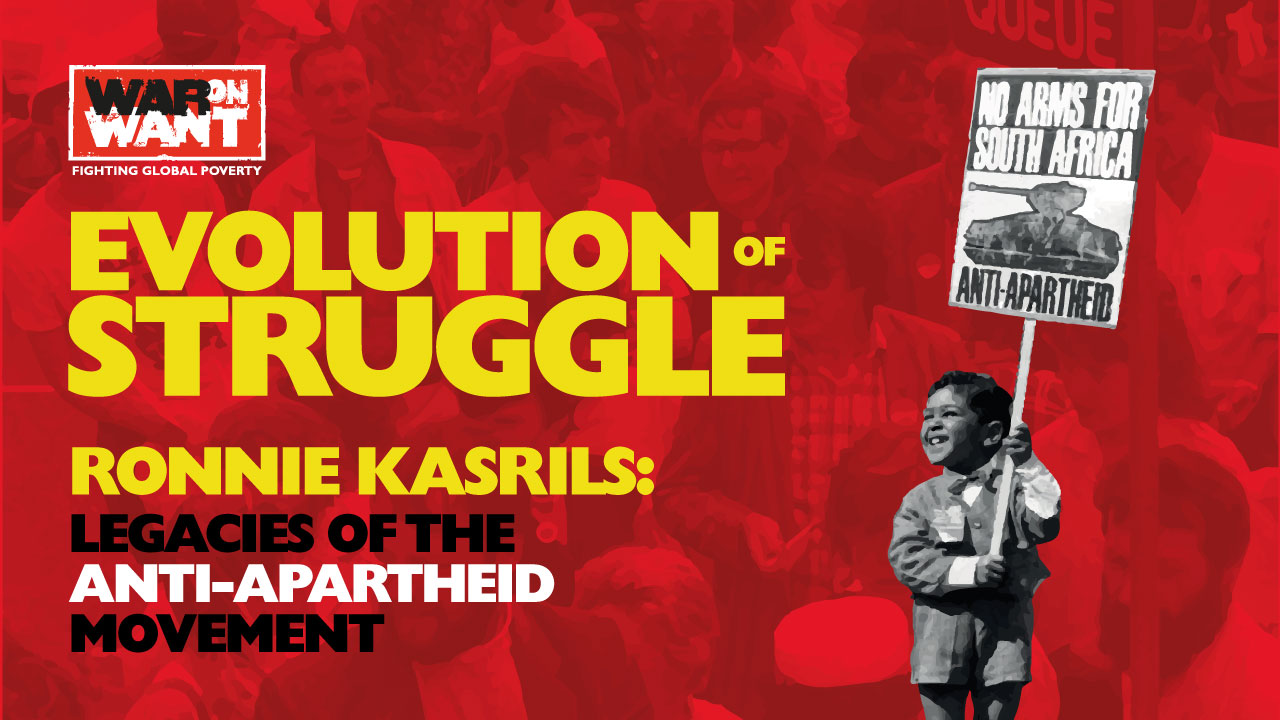 Speaker: Ronnie Kasrils
Ronald "Ronnie" Kasrils was a member of the National Executive Committee of the African National Congress (ANC) in South Africa from 1987 to 2007, after having played a central role in the struggle against apartheid in the 1960's, 70's and 80's.
Introduction by: Roger McKenzie
Roger McKenzie is the UK's leading black trade unionist, currently serving as an assistant general secretary at Unison. He has a long history of anti-racist activism, and led the trade union delegation to the United Nations World Conference Against Racism in Durban, South Africa, in 2001.
Chair: Ryvka Barnard
Ryvka Barnard is Senior Campaigns Officer for Militarism and Security at War on Want.

EVENT DETAILS
Date: 10 April 2019
Location: SOAS University of London
SOAS main building, Kamran Djam Lecture Theatre (DLT 139)
Time: 6.30pm – 8:30pm
Evolution of Struggle is a series of events about the anti-apartheid movement in the UK. For decades, thousands of people across the UK (and far beyond) dedicated years of their lives to anti-apartheid campaigns, in solidarity with South Africans fighting against this cruel and oppressive system.
Ronnie Kasrils, a key figure in the South African struggle against apartheid, will reflect on the role that solidarity movements, such as the Anti-Apartheid Movement in the UK, played in the struggle against institutionalised racism and oppression in South Africa, and the lessons those experiences can lend to activists and campaigners today.
This event is hosted by SOAS PalSoc.
Tickets are £3 – but FREE for students, university staff and War on Want members.
Join the conversation
RT @WarOnWant: The city authorities in Durban are violently and illegally evicting people during the Covid-19 pandemic. Take actio… https://t.co/OzmcQwnljy
—
20 hours 34 min ago
Tell hospitality and fast food companies to stand with their workers during the Covid-19 crisis. Workers deserve… https://t.co/oC21ooaVPa
—
1 day 18 hours ago
Stand in solidarity with the shack dwellers: sign the petition to end the evictions! https://t.co/nMWzYIBk7c
—
1 day 23 hours ago