Fight for Health: Vigil for Anglo American-impacted communities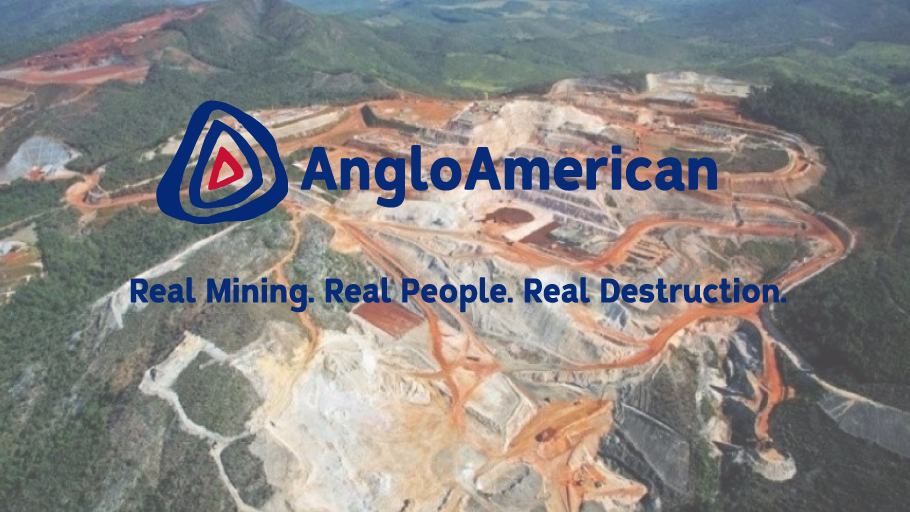 Anglo American, a London-listed mining company, has caused unimaginable damage to communities and the planet through its disregard for human rights, the environmental devastation caused by its projects, and its neo-colonial policies in Colombia, Brazil, Peru, Chile, South Africa and elsewhere. 
Join us for a vigil outside the company AGM to coincide with the arrival of shareholders. We'll be making the company's investors aware of the true impacts of their investments on people and planet, and standing in solidarity with our partners and communities in the global South who are resisting Anglo American's destruction. 
Date: Tuesday, April 30, 2019
Time: 1pm - 2.45pm 
Location: Queen Elizabeth II Conference Centre, Broad Sanctuary, Westminster, London SW1P 3EE
#RealDestruction
Mining corporations like Anglo American - which is over 100 years old - are responsible for the climate crisis, yet today, they present themselves as solution-bearers to the ecological crisis devastating our planet, rather than as the enablers and dirty polluters they really are. With false solutions such as FutureSmart Mining, their plans – far from helping us to transition away from fossil fuels – only cement the very extractive economy that violently condemns vulnerable and marginalised communities to more injustice and inequality.
Our focus is on solidarity with frontline communities…
The heart of the global mining industry beats in the City of London, where most of the world's biggest mining companies are incorporated. Despite systematic human rights abuses, these corporations are not held to account by the UK government. Our action will platform and highlight the frontline resistance of communities defending the right to land, water and life. The right to a dignified life for all. 
We'll have banners to make investors aware of the true impacts of their investment in the company. For those who would like to engage with investors, we'll provide leaflets outlining some of the impacts that Anglo American is having on communities across the global South and on our planet. We'll listen to activists who have experienced Anglo American's operations first hand and Medact members who will highlight the damage to health caused by this company.
Don't want to arrive alone? You'd be welcome to join us for a pre-vigil lunch and discussion at the Medact offices – please RSVP and get more info on this here.
ACCESSIBILITY: The protest venue is flat and five minutes walk from Westminster underground station. The nearest accessible toilets are two minutes walk away in Central Hall (see info for the building: https://www.c-h-w.com/about/accessibility/). A portable sound system will be used for speeches. There will be some photography with phones and SLR cameras. Flash photography is unlikely. There are no seating areas. Email contact@londonminingnetwork.org if you require a foldable chair or for further details on accessibility.)
Sign up to the protest on Facebook >
Anglo American owns a one-third stake in the infamous Cerrejón mine, a vast open pit coal mine in Colombia. Cerrejón has been long associated with human rights abuses including displacement, a lack of consultation with indigenous communities and serious harm to the health of local communities. Communities living near the mine are forced to breathe air that is heavy with coal dust and filled with the stench of burning. Many children suffer from respiratory problems; some become so ill that they cannot run or shout.
In Peru, Anglo American's Quellaveco project has raised serious concerns and opposition among local people. It is believed that copper mining in this region will use vast amounts of water in an area that is considered at high risk of drought and is heavily impacted by climate change.
There are fears that Anglo American's mining in Chile is speeding up the melting process of glaciers and leading to their disappearance in some cases. Glacier disruption could have serious impacts on hydrological cycles in the country with potentially devastating impacts for large proportions of the Chilean population.
Companies like Anglo American are exacerbating global health inequities; their extractivism damages health in the global South while much of their profits are concentrated in the global North.
Rivers are Bleeding: British Mining in Latin America 
To coincide with the Anglo American AGM, we will be re-launching our Rivers are Bleeding Report on the impact of UK mining companies in Latin America: a damning indictment on one of the world's most powerful industries and how frontline communities challenging the profit-at-any-costs logic of the extractive economy and unaccountable corporate power.
The protest is co-organised by: War on Want, Medact, London Mining Network, Colombia Solidarity Campaign, Decolonising Environmentalism and others. 
Join the conversation
"They cannot just cancel orders and wash their hands of responsibility." Our Sri Lankan allies are fighting for jus… https://t.co/3Fm09AHZMa
—
3 hours 36 min ago
In the midst of a pandemic, Israel continues to demolish Palestinian homes and hospitals, and confiscate land – des… https://t.co/OsnFAMiFSM
—
20 hours 46 min ago
Solidarity to the brave Palestinian health workers tending to the ill and injured while struggling under occupation… https://t.co/nfSxtY0trg
—
23 hours 23 min ago