Oil Justice: "They'd kill me if I went back to Colombia"
'Big Oil' is a violent business, Colombian trade union activist, Gilberto Torres, knows only too well.
Kidnapped and tortured by paramilitaries in 2002, Gilberto was held for 42 days, and released after fellow oil workers shut down pumping stations and refineries, across Colombia, in protest.  
Gilberto believes his abduction was ordered and assisted by the security arm of Ocensa, a joint venture pipeline company at the time part owned and operated by BP.  Seeking justice, and with  support from the Oil Justice initiative - a collaboration between War on Want, UK law firm Deighton Pierce Glynn and Colombian grassroots organisation COSPACC - he is taking the oil giant to the High Court in London.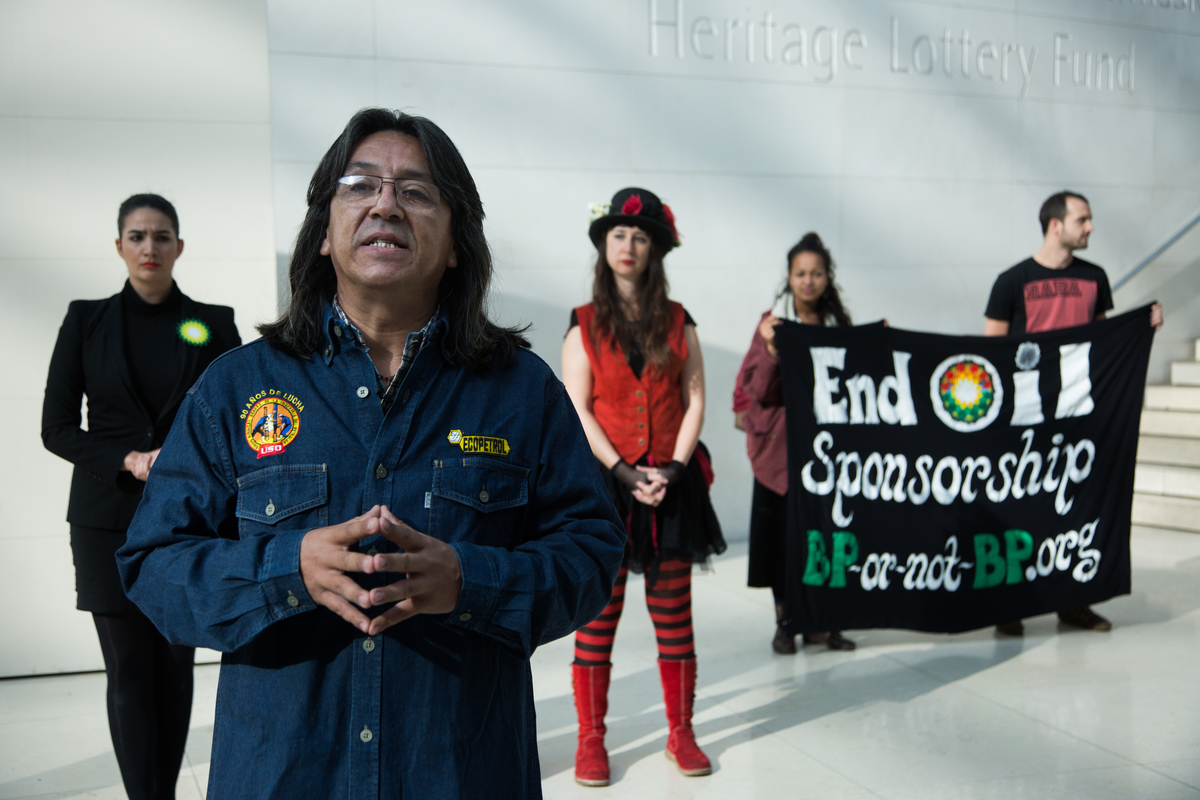 Gilberto Torres with theatrical group 'BP or not BP?' at British Museum Photo credit: Kristian Buus
Colombia possesses huge natural wealth and is the second most biodiverse country in the world. However, its natural bounty has proved a curse.
Against the backdrop of civil war, big oil companies are devastating rural communities: their operations have forced people from their land, polluted the environment, and led to widespread human rights violations.
According to the Colombia Human Rights Data Analysis Group, since BP and other companies began operating in the oil rich state of Casanare, central Colombia, in the early 1990s, some 12,000 people have been murdered or disappeared.  
During a recent speaker tour of the UK, organised by War on Want, Gilberto spoke of the human rights abuses in the extractive industry, and how time and again community activists and trade unionists are targeted.
"Since the oil companies came, every time a community activist or trade union member stands up to challenge human rights abuses or damage to the environment, they are threatened, attacked and in some cases murdered. I hold the multinationals responsible for this," said Gilberto.
His lawyer, Susan Willman, of Deighton Pierce Glynn, said: "Stricter laws are needed in the UK to deter multinationals like BP from investing in conflict zones like Colombia where their presence will be associated with atrocities. At the very least, victims like Gilberto deserve access to a remedy in our courts."
Gilberto now lives in exile. 'They'd kill me if I went back to Colombia,' he said.
Join the conversation
The Israeli Supreme Court has refused Palestinian political prisoners the right to social distance, despite releasi… https://t.co/JQG6K26EaH
—
3 hours 4 min ago
It's time to challenge Amazon's growing power by empowering workers and holding the corporation accountable.… https://t.co/w2m7YKopOZ
—
1 day 2 hours ago