University of Leeds announces divestment from three military companies
6 November 2018 - 12:00pm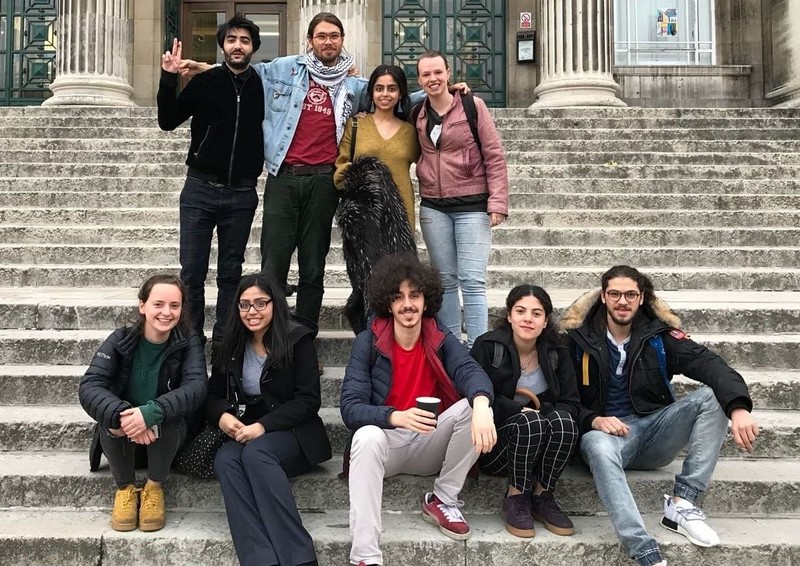 The University of Leeds Palestine Solidarity Group, which organised the campaign for divestment. (Facebook)
The University of Leeds announced that it will divest from three military companies complicit in human rights abuse, following up its fossil fuels divestment. Students and faculty have also called on the university to divest from HSBC over its business links with companies selling military technology to Israel.
Ryvka Barnard, War on Want's Senior Campaigns Officer for Militarism and Security, said:
"The University of Leeds is right to show support for human rights and environmental protection through ending its relationships with companies that blatantly ignore obligations to protect people and planet.
The decision to divest from companies that are complicit in horrible violence and grave human rights abuse by selling military technology to Israel and Saudi Arabia, whose war crimes against Palestinian and Yemeni people are well evidenced, is to be welcomed. The students and staff at Leeds that pushed the university to take this decision should be congratulated for refusing to allow their place learning to profit from destruction and violence.
The University of Leeds is following in the footsteps of universities, local councils, and churches around the world that are responding to the groundswell of grassroots energy of people holding their institutions to account by ending involvement in occupation, apartheid, and destruction of the earth. Now it's time for the UK government to follow suit and stop approving the sale of weapons and military technology to Israel, Saudi Arabia, and other regimes committing war crimes."
Ryvka is available for interviews and further comment on request.
Media contacts
0207 324 5060 / 07983 550 728
Notes to editors
Join the conversation
RT @WarOnWant: The city authorities in Durban are violently and illegally evicting people during the Covid-19 pandemic. Take actio… https://t.co/OzmcQwnljy
—
20 hours 43 min ago
Tell hospitality and fast food companies to stand with their workers during the Covid-19 crisis. Workers deserve… https://t.co/oC21ooaVPa
—
1 day 18 hours ago
Stand in solidarity with the shack dwellers: sign the petition to end the evictions! https://t.co/nMWzYIBk7c
—
1 day 23 hours ago