Israel's militarisation of Al Aqsa violates Palestinian rights
Responding to news of Israel's limitations on Palestinian access to Al Aqsa mosque in occupied Jerusalem, War on Want's senior militarism and security campaigner, Ryvka Barnard, said:
"Israel's militarisation of the Al Aqsa mosque is a clear example of the wide ranging repression facing Palestinians including: preventing them from accessing a site holy to Palestinian Muslims, an important heritage site for non-Muslim Palestinians as well, and using disproportionate and armed force against Palestinians exercising their fundamental human right to protest. 
The UK must stop aiding Israel's repression of Palestinians. Just last year, the UK Government granted more than £100 million worth of licences for the export of arms to Israel, despite its policy stating that arms exports should not be approved to states using them for 'internal repression'. The UK government must end its complicity in human rights violations and suspend its arms trade with Israel until it respects international law."
Notes to editors
Background:
AP News: Israel limits Muslim access to Jerusalem site amid tensions
Al Jazeera English: Timeline, Al-Aqsa Mosque
For more information and interviews contact Liz McKean on +44 7983 550 728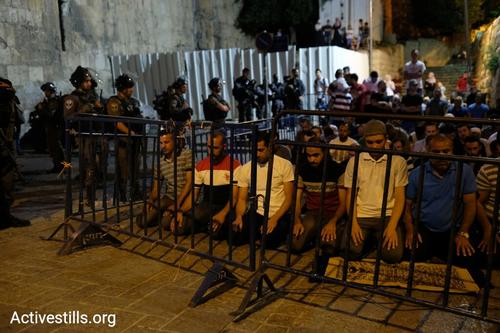 Join the conversation
Spying on workers organising into trade unions shows Amazon is heading in the wrong direction. The EU must hold it… https://t.co/XXtTbXma8u
—
3 hours 16 min ago
A UN Special Rapporteur has called for a halt on destructive coal mining in Colombia. Cerrejón, owned by UK-based m… https://t.co/AAbfz0Pj4e
—
5 hours 37 min ago
More evidence of the winners and losers in the garment industry. #BooHoo saw a huge increase in sales, by 45% to £3… https://t.co/ih40zBKtko
—
7 hours 1 min ago