From Grunwick to Deliveroo: getting organised, getting unionised
11 November 2016 - 11:00am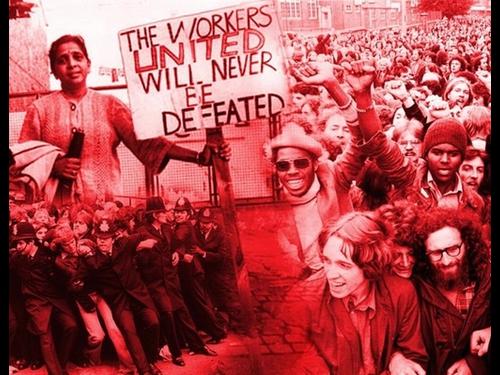 EVENT DATE: 10:30-16:30 Saturday 26 November
Location:   Willesden Library Centre, 95 High Road, London, NW10 2SF  
A one-day conference on migrant workers, trade unions and the new economy organised by Grunwick 40 (and supported by War on Want)
** War on Want's Senior Economic Justice Campaigner, Owen Espley will be helping lead a participative workshop on "What does solidarity look like today?" ** 
Forty years ago Asian women at Grunwick led a strike for basic human dignity at work and for the right to join to a trade union. Today these battles are still being fought, often by migrant workers in precarious employment conditions. The experiences of workers at Byron revealed the extent to which migrant workers can be exploited by 'the new economy' and tossed aside when no longer needed, while those at Deliveroo showed that resistance is both necessary and possible. 
This one-day conference will bring together campaigners, trade unionists, activists and thinkers to examine the changing nature of work and the terrains for resistance.
Although a free event, please ensure you book your place here as spaces are limited. Tickets available here: 
https://www.eventbrite.co.uk/e/from-grunwick-to-deliveroo-getting-organised-getting-unionised-tickets-27955302061
Sessions will include: 
The legacy of Grunwick
Do we need independent trade unions?
Building community support
What does Brexit mean for workers
Resisting immigration raids
Building community support
What does solidarity look like today 
Confirmed participants are:
Rita Chadha (Refugee and Migrant Forum Essex and London
Dr Sundari Anitha
Suresh Grover (The Moniroring Group)
Anti Raids Network
Amrit Wilson (writer, activist)
Durham teaching assistants
Jack Dromey MP
Owen Espley, Migrant Worker Rights Campaigner, (War on Want) 
Unite Hotel Workers Branch
United Workers of the World Union (Deliveroo and other campaigns)
More to be announced
The full agenda will be released soon. There is limited capacity at this venue so please book now to secure your place.
Lunch (with a vegetarian and vegan option) will be available for a reasonable price.
Join the conversation
Liam Fox rushing ahead with high risk trade deals – with Trump's America First, with the agribusiness lobby of NZ &… https://t.co/iHgFtEWmbR
—
6 hours 34 min ago