Free trade deals set to ravage Europe's public services
Public services in the EU are under threat from trade agreements that could endanger citizens' rights to basic services like water, health and energy for the sake of corporate profits, according to a new report released today by an international group of NGOs and trade unions.
The study shows how the EU's trade deal with Canada, CETA, and the treaty under negotiation with the United States, TTIP, could lock public utilities into irreversible commercialisation and remove governments' ability to regulate services.
Exposing systemic collusion between big business and European Commission officials in drawing up CETA and TTIP, the report shows how negotiators are doing the work of the EU's most powerful corporate lobby groups in pushing an aggressive corporate agenda of far-reaching market opening in the public sector.
John Hilary, Executive Director of War on Want, said: 
"The European Union is handing over our public services to the private sector, and the people of Europe are being kept in the dark. Once a public service is privatised and included in a trade treaty, that privatisation is effectively irreversible. The Brussels bureaucrats are selling us down the river, and the UK government is cheering them on."
Pia Eberhardt, researcher with lobby watchdog Corporate Europe Observatory, said:
"Corporate lobby groups have their fingerprints all over CETA and a similarly dangerous agenda is being pursued in the ongoing TTIP talks. The consequences include proposals for excessive investor rights which mean corporations could sue governments for regulations that affect their profits, potentially leading to multi-billion Euro payouts in compensation. Citizens must come together to stop this!"
Jan Willem Goudriaan, General Secretary of the European Federation of Public Service Unions (EPSU), said:
"The corporate sector is pushing an agenda that threatens citizens and workers as a vast array of public services are set to be subject to liberalisation under the provisions of these agreements. What is at stake is our right to vital services, and the ability of public services to function in the public interest."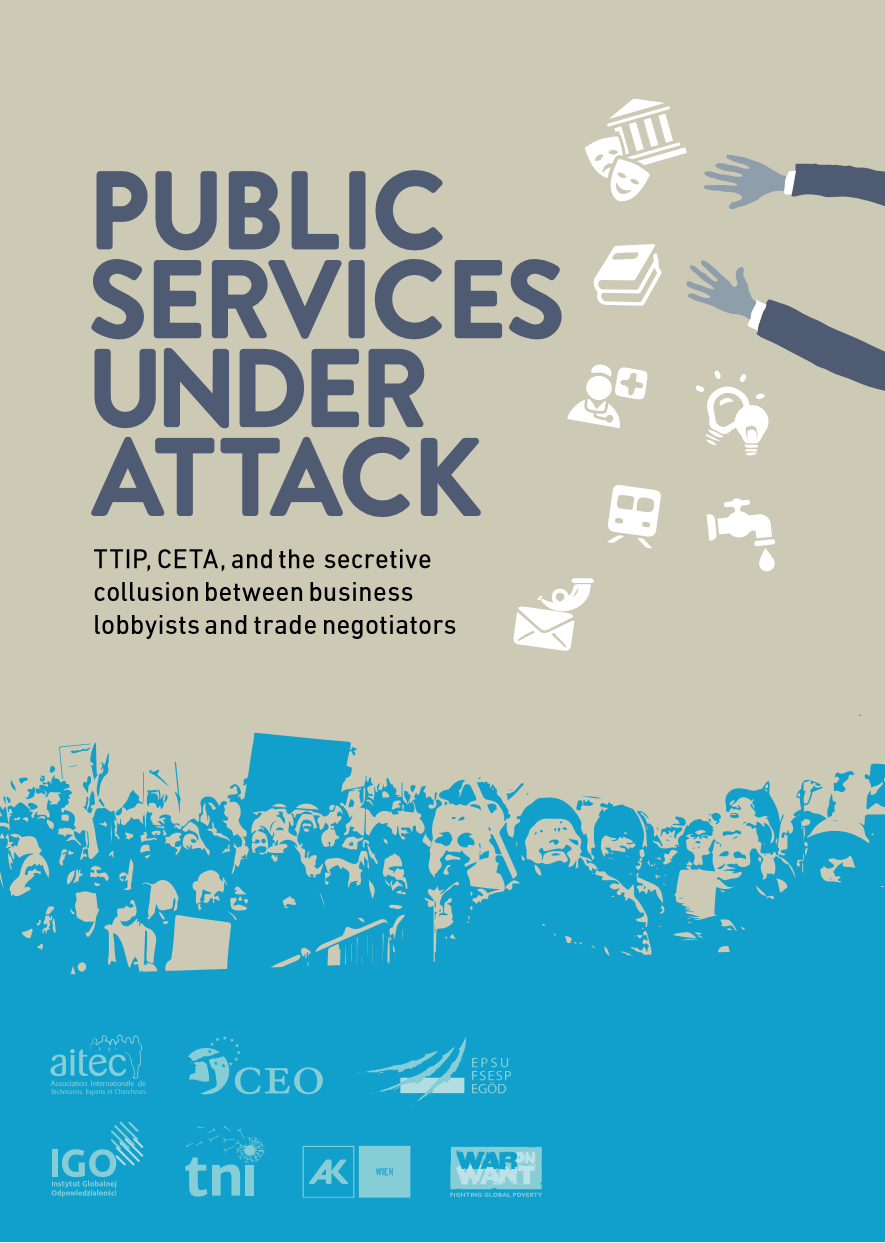 Join the conversation
Israel's detention of Palestinian political prisoners has always been unjust and illegal, and now Covid-19 poses an… https://t.co/EDGX81TMHD
—
23 hours 41 min ago
RT @WarOnWant: The city authorities in Durban are violently and illegally evicting people during the Covid-19 pandemic. Take actio… https://t.co/OzmcQwnljy
—
2 days 1 hour ago
Tell hospitality and fast food companies to stand with their workers during the Covid-19 crisis. Workers deserve… https://t.co/oC21ooaVPa
—
2 days 23 hours ago