Experts rank Gap the world's worst company for failing Bangladesh workers' safety
24 January 2014 - 10:30am
A jury of experts have awarded Gap the 'Public Eye' award for the worst company of the year for its failure to sign a binding agreement to make factories safe in the wake of the Rana Plaza disaster in Bangladesh earlier this year.
In making their decision, the panel ranked Gap's behaviour worse than HSBC's involvement in land-grabbing, Syngenta, Bayer & BASF's production of bee killing pesticides and mining giant Glencore's impact on communities around the world.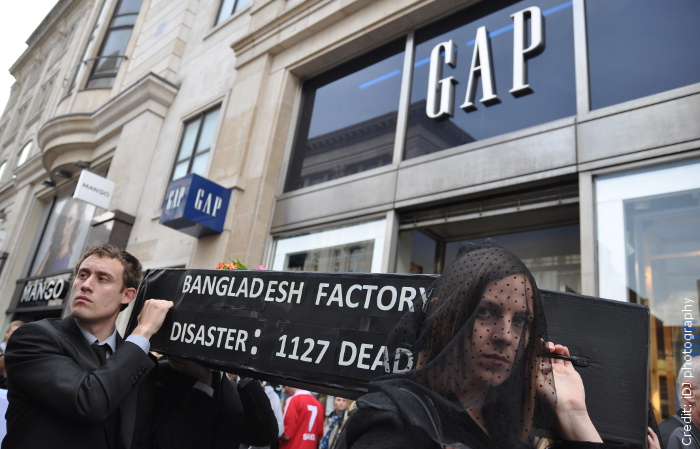 The Public Eye award is run by Greenpeace and the Berne Declaration and is awarded every January to the worst behaved companies of the year. Previous winners of the jury's prize include Goldman Sachs and Barclays. The jury justified the award to Gap saying that the company "steadfastly refuses to contribute to effective reforms in the textile industry".
Bangladeshi labour activist and Executive Director of the Bangladesh Centre for Workers Solidarity, Kalpona Akter collected Gap's award, saying "Gap still refuses to make a contractual commitment to work with their suppliers and local and international trade unions to ensure that repairs are made and workers have the right to refuse dangerous work."
After the Rana Plaza disaster in Bangladesh killed over 1,100 people, mainly female garment workers, over a million people around the world demanded brands change to make sure such a preventable catastrophe could never happen again.
As a result over 100 companies joined the Bangladesh Safety Accord - a landmark project, bringing together brands, supplier factories, trade unions and NGOs to end the appallingly unsafe factory conditions and ensure decent working conditions.
But Gap didn't join this agreement, instead they launched their own rival plan, which they call the "Alliance for Bangladesh Worker Safety". While their plan sounds grand, it is just more of the same corporate-dominated, voluntary measures that were so clearly proven to have failed in the Rana Plaza disaster. Gap has substituted a sham publicity strategy for workers' rights and safety and leaves the lives of thousands of workers at risk.
Thank you to everyone who voted for Gap in the Public Eye Awards, we will be keeping up the pressure to demand that they respect the rights of the workers who make their clothes.
]]>
Join the conversation
Hold #BP to account for the social and environmental devastation #BP have brought to Argentina and Colombia. Demand… https://t.co/ssEVQmiG4W
—
15 hours 17 min ago
Important call from Palestinian human rights groups for international civil society to undertake campaigns to… https://t.co/FwlhVzY9Qc
—
16 hours 6 min ago