Colombian trade unionist confronts BP at British Museum
12 October 2015 - 12:00pm
War on Want joined forces with theatrical protest group 'BP or not BP?' in protest at the British Museum's sponsorship deal with BP and the oil giant's alleged involvement in human rights abuses in Colombia.
They were joined by Colombian trade unionist Gilberto Torres, who is bringing a human rights case against BP in the High Court in London.
The surprise protest performance, which took place at the British Museum on Sunday 11 October, came on the eve of the 'Oil Justice Now!' tour which kicks off on Monday 12 October to raise awareness of, and funds, for Gilberto's legal action.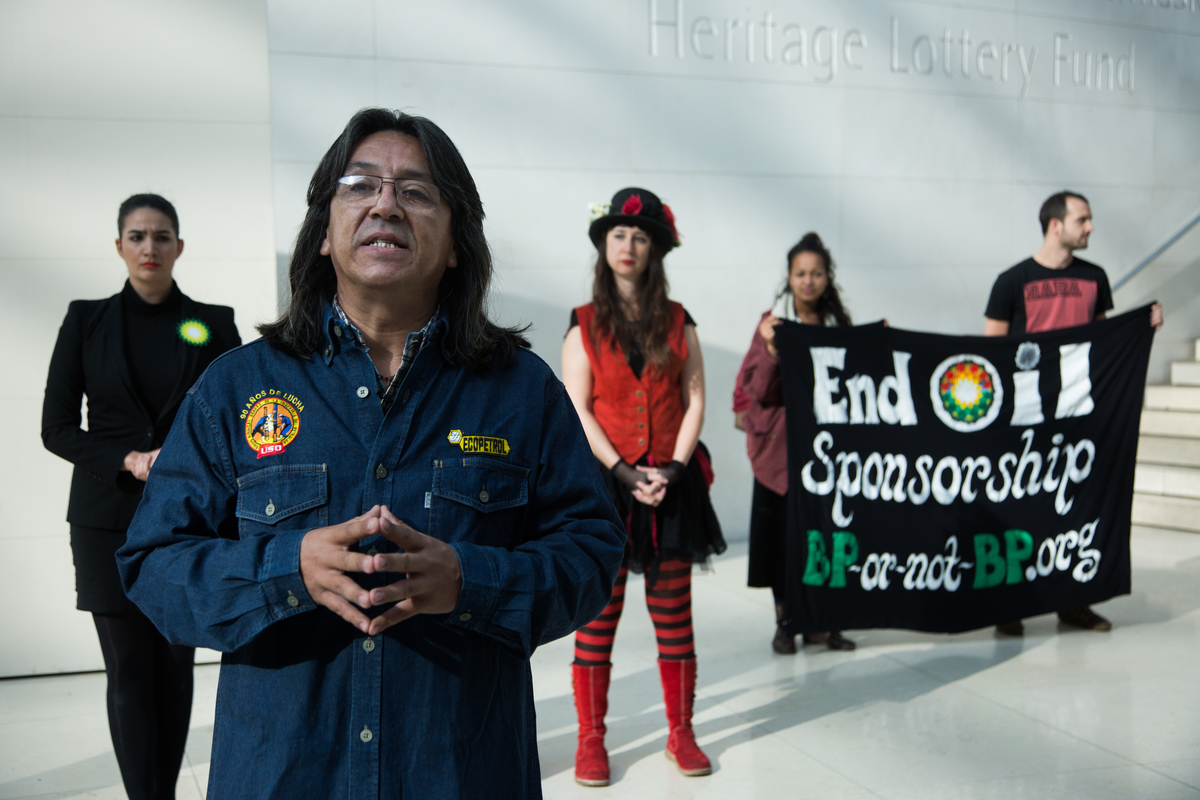 Gilberto Torres with theatrical group 'BP or not BP?' at British Museum Photo credit: Kristian Buus
Gilberto, a former trade unionist representing workers in the oil industry, was abducted and tortured by Colombian paramilitaries in 2002. He believes his abduction was ordered and passed by Ocensa, a joint venture pipeline company at the time part owned by BP.
Gilberto Torres said: "Since the oil companies came, every time a community activist or trade union member stands up to challenge human rights abuses or damage to the environment, they are threatened, attacked and in some cases murdered. I hold the multinationals responsible for this. I have lived in exile from Colombia for over 13 years now. I miss my country, my friends and my culture."
Tom Lebert, Conflict and Resources Programme Officer at War on Want, said:
 "Big oil companies are devastating communities across the world. Their operations have forced people from their land, polluted the environment, and led to widespread human rights violations. It's time these companies were held to account."
Sue Willman, a lawyer from Deighton Pierce Glynn, the law firm representing Gilberto, said,
"Gilberto Torres is risking his safety by suing oil companies in UK and by coming here to tell his story. He and his community face huge barriers in accessing justice. We hope his courage and the Oiljustice initiative will be a small step in breaking down those barriers, and changing the behaviour of corporations. We want to see BP held to account for its role in human rights violations, and we want justice to be done not just for Gilberto but for thousands of others."
Paula Serafini of 'BP or not BP?' said: "BP is responsible for horrific human rights abuses in Colombia. It is also driving runaway climate change, lobbying against low-carbon alternatives, and destroying ecosystems and livelihoods around the world. The British Museum must stop legitimising this criminal company by allowing it to sponsor major exhibitions."
The British Museum currently has a 5-year sponsorship deal with the oil giant. The contract is due to be renewed in the coming months.
Notes to editors
For further information and interviews, contact:
War on Want, Ross Hemingway on 07983 550 728, rhemingway@waronwant.org
BP or not BP?, Jess Worth on 07946645726, info@bp-or-not-bp.org
Deighton Pierce Glynn, Sue Willman on 020 7407 0007, SWillman@dpglaw.co.uk
 
The 'Oil Justice Now!' tour is an initiative of the Oil Justice campaign, which is collaboration between War on Want, law firm Deighton Pierce Glynn and the Colombian NGO COSPACC.
BP or not BP have previously exposed Shell's influence over the Science Museum's climate exhibition http://www.theguardian.com/business/2015/may/31/shell-sought-influence-direction-science-museum-climate-programme
The performance featured two vaudevillian 'truth translators' who interpreted the greenwash uttered by a sleazy BP character.
Join the conversation
Hold #BP to account for the social and environmental devastation #BP have brought to Argentina and Colombia. Demand… https://t.co/ssEVQmiG4W
—
11 hours 25 min ago
Important call from Palestinian human rights groups for international civil society to undertake campaigns to… https://t.co/FwlhVzY9Qc
—
12 hours 14 min ago