Civil society groups reject CETA deal
25 September 2015 - 10:15am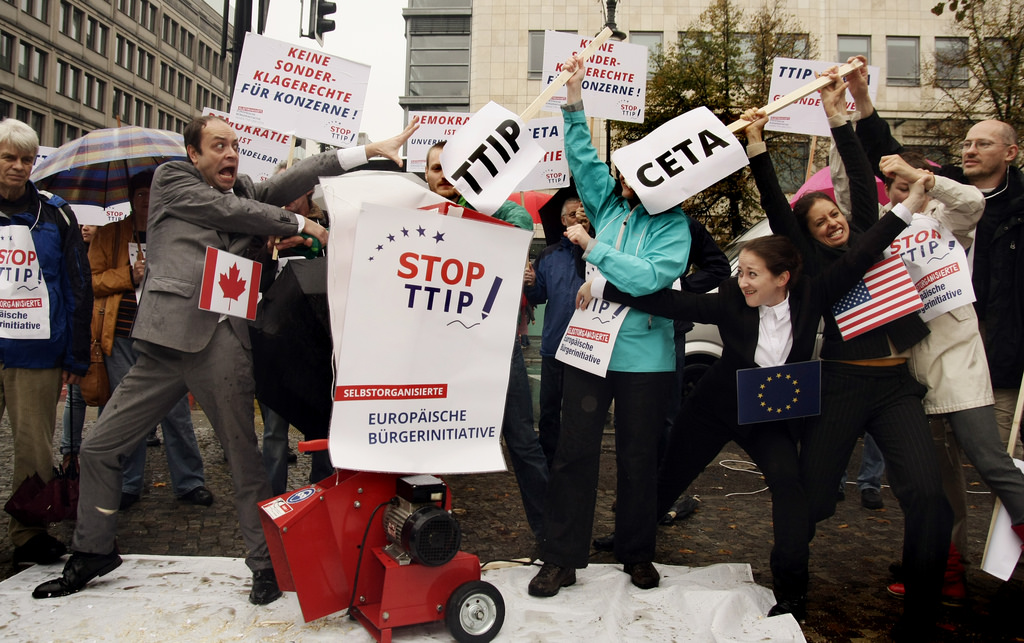 Civil society groups reject CETA deal
Civil society groups on both sides of the Atlantic will today reject the Comprehensive Economic and Trade Agreement (CETA), a major new trade and investment agreement signed one year ago in Ottawa after secret negotiations between Canada and the European Commission (EC).
Protests against CETA are taking place across Europe and Canada today, with campaigners warning the deal is a 'dry run' for the Transatlantic Trade and Investment Partnership (TTIP) negotiated between the USA and the European Commission.
CETA threatens deregulation of social, health and environmental protections, privatisation of public services and a secret 'corporate court' system giving big business the power to sue states for policies affecting their future profits.
CETA negotiations were held in secret over five years from 2009 - 2015, without any access to talks for MPs or MEPs or public debate over the controversial content of the deal.
War on Want Executive Director John Hilary said: "Almost 3 million people across Europe have signed the European Citizens' Initiative saying no to CETA. The people of Europe have spoken and have made it clear they don't want this deal.
"Just like TTIP, CETA is by and for big business. It will lead to the irreversible privatisation of our public services and allow thousands of US corporations with offices in Canada to sue us in secret corporate courts.
"Anyone who is concerned about TTIP must also worry about CETA's threat to our democracy."
CETA is facing significant public and political opposition. In addition to the European Citizen's Initiative, which is due to close on 6 October, more than 50 Canadian municipalities have tabled resolutions opposing CETA.
CETA's investor-state dispute settlement (ISDS) mechanism is facing strong opposition from European governments. France and Germany have both called for the deal to be re-opened, with France warning it will not ratify CETA without changes. The European Parliament's Socialist and Democrat (S&D) bloc, which includes Labour MEPs, has committed to veto CETA if its ISDS provisions are not altered.
CETA was expected to be put forward for ratification in the European Parliament in early 2016. However, due to delays in translating the text, it is now expected that the deal will not be ready for ratification until the last quarter of 2016.
Ends
Notes to editors
For further information and interviews, contact John Hilary on +44 7983 550727 or Mark Dearn on +44 7804 289680.
Join the conversation
Hold #BP to account for the social and environmental devastation #BP have brought to Argentina and Colombia. Demand… https://t.co/ssEVQmiG4W
—
2 hours 17 min ago
Important call from Palestinian human rights groups for international civil society to undertake campaigns to… https://t.co/FwlhVzY9Qc
—
3 hours 5 min ago