2018 Highlights
20 December 2018 - 11:45am
2018 in review 
This year has been an eventful year for War on Want. Whether you've taken action by emailing your MP, signing one of our petitions, or donating to one of our appeals, we want to say a heartfelt thank you for everything you've helped us achieve throughout 2018. Interested in joining our movement?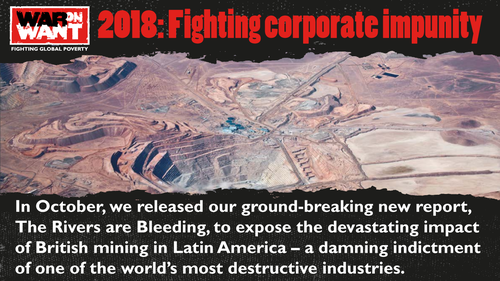 2018 has been a busy year calling out corporate complicity in violations of Palestinian rights. We've already seen progress with both companies and governments alike – in July, the Irish Senate voted to ban the import of goods originating in illegal settlements. Airbnb announced in November it will remove listings in the occupied West Bank. Also in November, The University of Leeds announced it be divesting from three military companies complicit in human rights abuse.
In May, following Israel's military attacks on the Great Return March, 69 MPs across parties signed an Early Day Motion calling for a suspension of arms sales to Israel. That's thanks to over 5,000 War on Want supporters like you pressuring their MPs.
War on Want and supporters were at the HSBC Annual General Meeting in May, grilling executives on their dealings with companies selling weapons to Israel. In the run up to the AGM, over 18,000 people emailed HSBC expressing concern, and over 20 HSBC branches nationwide have seen regular pickets.
Also in May, we took on BP at their AGM in Manchester. We joined forces with anti-fracking activists, allied organisations, as well as Latin American representatives from Southern Oil Observatory (OpSur) in Argentina and our partner The Social Corporation for Community Advisory and Training Services (COS-PACC) in Colombia, to call out BP's 'fossil fuel imperialism': the ongoing plunder of natural resources for profit at the expense of the territories and rights of rural communities…and our climate.
In October, we were honoured to co-host leading environmental defenders from partner organisations: Wayuu Women's Force from Colombia, The Observatory for Environmental Conflicts in Latin America (OLCA) from Chile, and the Movement of People Affected by Dams (MAB) from Brazil– to challenge BHP, the world's biggest mining company at their AGM. Our partners were here to hold the company to account for its damaging impacts on communities and their environments.
To coincide with the BHP AGM in October, we released our ground-breaking new report; The Rivers are Bleeding, to expose the devastating impact of British mining in Latin America; gathering 17 case studies from across the continent to produce a damning indictment of one of the world's most destructive industries.
We saw a momentous campaign victory in December when HSBC informed us that it has divested from Israeli arms manufacturer Elbit Systems. We had been calling on HSBC to divest for over a year, after we exposed its links to Elbit in our 'Deadly Investments' report.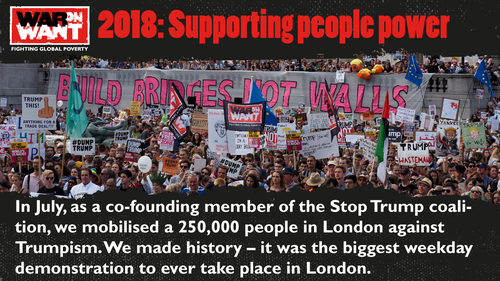 In January, War on Want appeared on the Israeli government's 'travel ban' list for supporting the Palestinian call for Boycott Divestment and Sanctions. Following the ban, we were overwhelmed by solidarity from our members and supporters, old and new. Thank you.
In July, as a co-founding member of the Stop Trump coalition, we mobilised a quarter of a million people in London and people in over 50 towns and cities nationwide to march against 'Trumpism': a politics that is creating fertile ground for rising inequality, climate crisis, racist scapegoating, and attacks on human rights. We made history – it was the biggest weekday demonstration to ever take place in London.
In September, we once again partnered with The World Transformed: a 4-day politics, arts and music festival working to build social justice movements. War on Want held hard-hitting sessions on workers' rights, solidarity with Palestinians, and hosted an evening on internationalism and global stories of resistance.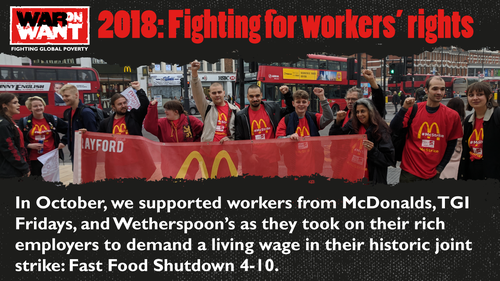 Five years ago after Rana Plaza, War on Want supporters helped secure the first binding agreement holding fashion brands responsible for the conditions of the garment workers.  Now, we've seen that victory in action. In January, unions representing Bangladeshi textile workers reached an unprecedented $2.3m settlement with a multinational apparel brand over delays to fixing hazards on factory sites.
In July, War on Want supporters stood with migrant workers and joined with members of the University and College Union (UCU) to demand that immigration rules not undermine migrant workers' right to strike. In the face of public pressure, The Home Secretary Sajid Javid MP gave much needed clarity that those on Tier 2 Visas would not have days of strike action count towards their annual limit on unpaid leave.
In October, we helped bring workers together from McDonalds, TGI Fridays, and Wetherspoon's as they took on their highly profitable employers to demand a living wage of at least £10/ hour, guaranteed hours and for their right to a union in a national day of action to support their historic joint strike Fast Food Shutdown 4-10.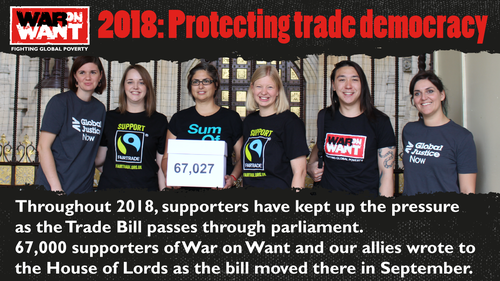 Throughout 2018, supporters have kept up the pressure as the Trade Bill passes through parliament. From January to June, thousands of you emailed your MP, and 284 MPs from five different parties supported an amendment that would have given Parliament a vote and put an end to secrecy. Sadly it wasn't quite enough to pass.  But still, 67,000 supporters of War on Want and our allies wrote to the House of Lords as the bill moved there in September.
We've continued to fight against toxic trade deals. In June, we spoke out against CETA when it came up for ratification. When the government ran consultations on potential future trade deals in October, we helped supporters feed in on the dangers of a deal with Trump's America and of joining the Trans-Pacific Partnership.
In December, we've been gearing up for our hard-hitting new campaign: we'll be taking on one of the most outrageous parts of these trade deals: ISDS or 'corporate courts' which allow foreign companies to sue governments outside of the national legal system over laws and policies that they don't like. Made scandalous by TTIP, ISDS should have no place in UK trade and investment policy. Watch this space!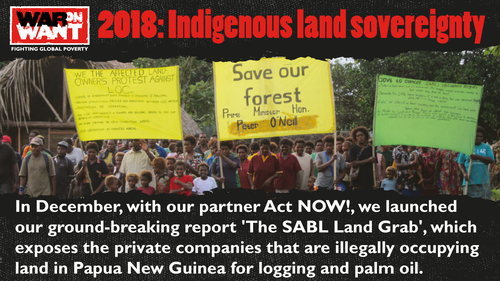 Victory! Our partner, the Amadiba Crisis Committee (ACC) in South Africa has been resisting the entry of titanium mining into their ancestral lands for over 15 years, demanding their Right 2 Say No to destructive mining. In November, in a landmark high-court decision, the ACC's campaigning efforts paid off as the government and the Australian mining company behind the project, Transworld Energy and Mineral Resources (TEM) were ordered to get the full consent of the community before any mining development could continue.
In December, alongside our partner Act NOW! we launched our new report The SABL Land Grab, which exposes the private companies that are illegally occupying land in Papua New Guinea for logging and palm oil plantations and exploiting the rights of the indigenous peoples.
Thanks for standing with us. Not a member of War on Want? We'd love for you to join us in the fight for global justice. 
Join the conversation
RT @PACBI: Inspiring news! British Society for Middle East Studies endorses the Palestinian call to boycott complicit Israeli… https://t.co/JBVWqNHBP9
—
8 hours 50 min ago
34 European trade unions representing millions of workers across Europe wrote to the European Commission and Europe… https://t.co/yYYw0o1hw3
—
8 hours 51 min ago
Citizens of Abbruzzo in Italy stopped the Ombrina Mare oil project. But now, Big Oil is suing the Italian governmen… https://t.co/MRXgxIN2AB
—
9 hours 40 sec ago