10 Ways to Show #McSolidarity with the #McStrike
1 September 2017 - 9:00am
On Monday 4 September, McDonalds workers will make history by going on strike for the 1st time in the UK. They are calling it the #McStrike
They are demanding £10 an hour, and their right to join a union to be respected.
Here are ten things you can do to show McSolidarity:
1) Change your profile picture on social media. 
Download the image here:
2) Support on Social Media – use the hashtags #McStrike and / or #FastfoodGlobal
You can retweet this tweet by clicking here: 
Pls RT: I support the #McStrike workers. It's time to #EndPrecariousContracts https://t.co/co7stfTwmQ pic.twitter.com/J3G7JtPCPa

— War on Want (@WarOnWant) August 31, 2017
Or you can share this photo on Facebook by clicking here or below: 
3) Get your trade union branch to pass a motion of support:
There is a draft motion here. (If you are not a member of a trade union, join one!) 
4) Attend a demonstration outside your local McDonalds: 
You can see a list here:
5) Attend the rally outside McDonalds HQ (Saturday 2 September) 
14:00–16:00, Saturday 2 September 2017, Mcdonald's HQ, 11-59 High Rd, East Finchley, N2 8AW London, Greater London
Facebook Event here; 
6) Attend a rally in Parliament Square (Monday 4 September): 
10:30-12:00 Monday 4 September 2017, Old Palace Yard, nr Parlliament Square 
7) Donate to the Strike fund:
You can donate here.  
8) Attend the picket lines [Warning Early Morning!!!]
a. Cambridge:  06-07:00 McDonalds, Cambridge, Newmarket Road, CB5 8WL
b. Crayford (SE London)  06:00-7:30am McDonald's, Crayford Road Branch, Crayford SE London, DA1 4LD
9) Leaflet the McDonald's Worker's at your local McDonald's 
a. There is a leaflet you can use here;
10) Sign up for War on Want updates 
You'll receive news about this and other cutting-edge global campaigns for workers' rights. You can sign up here: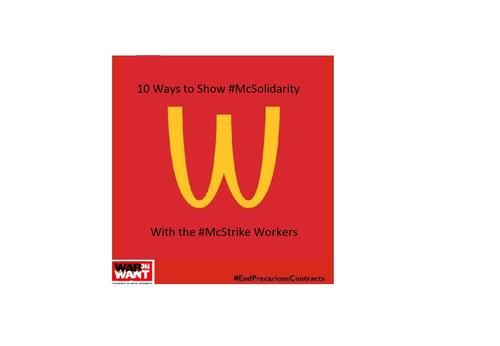 Join the conversation
Spying on workers organising into trade unions shows Amazon is heading in the wrong direction. The EU must hold it… https://t.co/XXtTbXma8u
—
3 hours 15 min ago
A UN Special Rapporteur has called for a halt on destructive coal mining in Colombia. Cerrejón, owned by UK-based m… https://t.co/AAbfz0Pj4e
—
5 hours 36 min ago
More evidence of the winners and losers in the garment industry. #BooHoo saw a huge increase in sales, by 45% to £3… https://t.co/ih40zBKtko
—
7 hours 27 sec ago