Killer Drones
What are drones?
Unmanned aerial vehicles (UAVs), commonly known as drones, are aircraft remotely controlled by 'pilots' from the ground, often at great distance from war zones. While ground troops launch drones from the conflict zone, the operation is then handed to controllers operating missions on video screens.
Drones are a new mode of remote control wars in contrast to launching massive on the ground offensives at the risk of losing troops. While there are dozens of different drones, they generally fall into two categories: those that are used for reconnaissance and surveillance purposes, and those that are armed with missiles and bombs. Drones have become the latest weapon of choice in the so-called war on terror.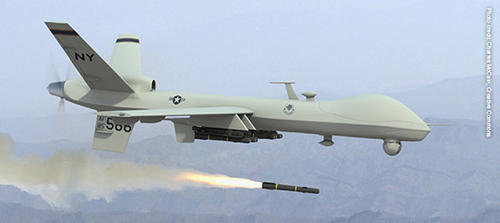 Who's got them?
To date, only three countries – the USA, the UK and Israel – are known to have used armed drones, and all these have made clear their intentions to further expand their drone fleets. The USA has the largest fleet, estimated at around 7,500 , and is seeking to spend $32 billion on drones over the next eight years.  The USA has deployed drones in Iraq, Afghanistan, Pakistan, Yemen, Somalia and Libya.
The UK's drone wars
In the spring of 2013, for the first time, Britain began operating remote-controlled unmanned aerial vehicles (UAVs), or 'drones', from a new facility at the RAF military base in Waddington near Lincoln. Previously Britain had been controlling its armed drones in the skies over Afghanistan from a US base in Nevada. This marks a critical expansion in Britain's drones programme. The government will also double its number of armed Reaper drones in Afghanistan.
Britain initially deployed unarmed drones in Afghanistan, but they were quickly equipped with 500lb laser-guided bombs and Hellfire missiles.  Today, Britain has several different types of armed and surveillance drones in Iraq and Afghanistan and others in the production or development stage. The government is developing drones at BAE Systems and using Reaper drones bought from the US. It is also leasing Israeli drones for use in Afghanistan while awaiting completion of a new British surveillance drone called Watchkeeper. Contract for the Watchkeeper was awarded to Israeli company Elbit and its partner company Thales UK.
The impact of drone wars
The impact of drone war on civilians living in Afghanistan and Pakistan has been devastating, with many civilian casualties and the constant threat of attack from drones circling the skies for up to 17 hours at a time.  Despite the claims that drones are 'precision weapons', reports on the number of deaths from drone strikes in Pakistan, Yemen and Somalia explain that between 201-213 children have been killed since 2001 and estimates of civilian casualties are between 2,985 and 4,533.
In addition to the death toll, the psychological impact of living under constant surveillance, never knowing when the next strike will come, is a serious consideration. In their Living Under Drones report, researchers at Stanford and New York University found that civilians in Pakistan were being "terrorized" by the drones.
Time for action
Drones are indiscriminate weapons of war that have been responsible for thousands of civilian deaths. Rather than expanding the UK's arsenal, drones should be banned, just as landmines and cluster munitions were banned. Now is the time to stop the rise of drone warfare – before it is too late.
Join the conversation
"The UK must implement its own export guidelines, and stop its material support for war crimes abroad." There's now… https://t.co/aeD6Q7oKKI
—
13 hours 36 min ago