The UK must reject Trump's Deal of the Century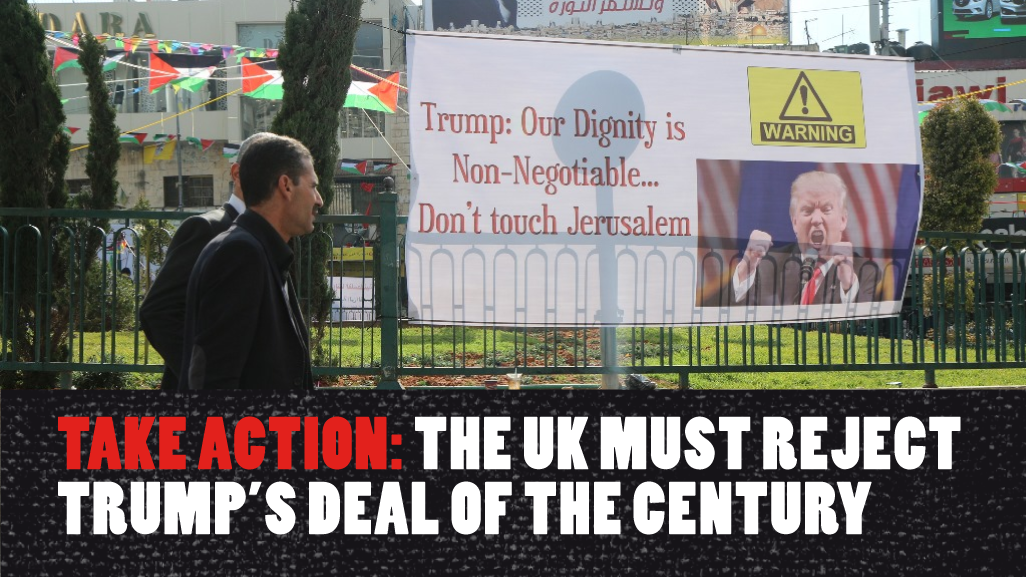 Photo: Ahmad Al-Bazz/Activestills.org
The US-brokered 'peace plan' is not at all about peace. It is a new phase in the ongoing dispossession of the Palestine people. Trump's 'Deal of the Century' is a flagrant normalisation of apartheid, land grabs and ethnic cleansing.
The response from the UK government to Trump's proposal is shameful.
Instead of supporting this catastrophic plan, the UK must unequivocally stand up for international law and uphold its commitment to defend the rights of the Palestinian people.
Help us pressure the UK government to change course before it's too late. Email your MP and ask them to press the government to reject Trump's Deal of the Century and end the UK's ongoing complicity in Israel's occupation and war crimes.
Join the conversation
Israel's detention of Palestinian political prisoners has always been unjust and illegal, and now Covid-19 poses an… https://t.co/EDGX81TMHD
—
23 hours 40 min ago
RT @WarOnWant: The city authorities in Durban are violently and illegally evicting people during the Covid-19 pandemic. Take actio… https://t.co/OzmcQwnljy
—
2 days 1 hour ago
Tell hospitality and fast food companies to stand with their workers during the Covid-19 crisis. Workers deserve… https://t.co/oC21ooaVPa
—
2 days 23 hours ago