Ask your MP to suspend arms exports to Israel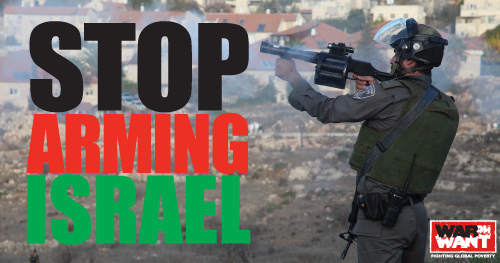 Israel's deadly attacks on protesters in Gaza are only the latest example of its militarised repression of Palestinians. Israel's military administers the illegal occupation and siege of the West Bank and Gaza Strip, enforcing closure from land, air and sea. It targets unarmed Palestinians with tear gas grenades, rubber-coated bullets and live ammunition, and carries out mass arrests, house demolitions and extrajudicial executions. This brutality lies at the heart of Israel's systematic violations of Palestinian rights, amounting to serious breaches of international law, and even war crimes.
The UK Government is directly complicit in Israel's violence against Palestinians. Since 2014, the UK Government has approved over £490 million worth of arms exports to Israel, including millions of pounds worth of small arms and components for sniper rifles, assault rifles, surveillance and armed drones, and other items precisely like those being used to attack unarmed Palestinians. The UK Government knows that these weapons are being used for this brutal violence and for grave breaches of international law, and yet it allows this arms trade to continue.
MPs across political parties are pressing the Government to investigate how UK weapons exports are used, and to suspend export licences to Israel while that investigation takes place. Richard Burden MP has tabled an Early Day Motion on the topic, providing a platform for MPs to add their names to the call for the UK to abide by its own obligations under international and UK law not to provide material support for war crimes.
Please ask your MP to support this important EDM or if they cannot sign EDMs, to support the call by writing to the Government on the topic.
Join the conversation
The UK Government cannot make up for the injustices of the #Windrush Scandal without recognising and making sincere… https://t.co/QoKYz3kvGA
—
29 min 57 sec ago
URGENT: #CETA is back! This Tuesday, MPs will debate CETA, which would write corporate power into the rules of our… https://t.co/bwnzbFSPdH
—
3 hours 34 min ago
#CETA would write corporate power into the rules of our society. MPs will debate it this Tuesday! Ask your to vote… https://t.co/DTszj3D8sg
—
21 hours 25 min ago