#SportsDirectShame - Stand With Migrant Workers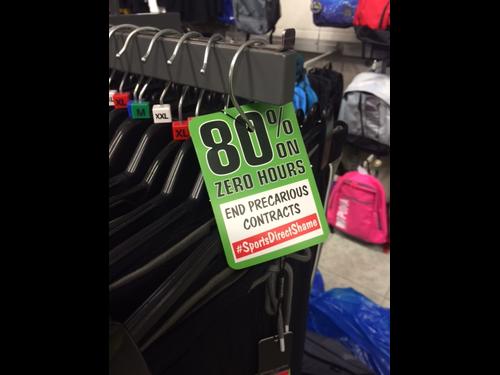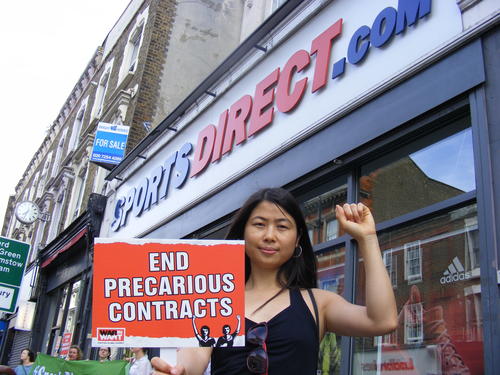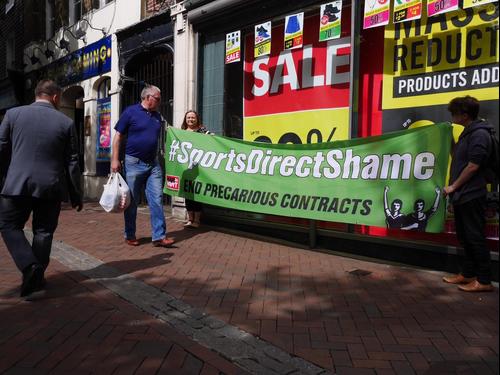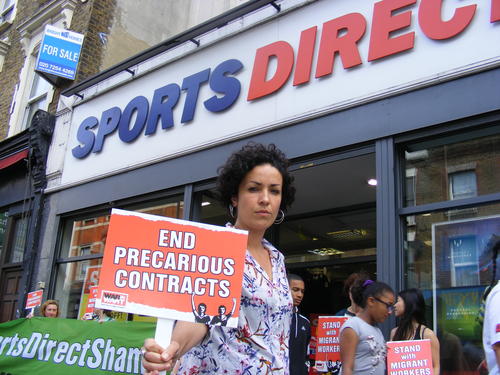 War on Want is supporting Unite the Union's Sports Direct Shame Campaign.
Sports Direct has become emblematic of the rise of precarious contracts where workers have no security. This means they live in fear of being sacked and feel unable to challenge appalling behaviour. 
At Sports Direct Shirebrook (Derbyshire) warehouse workers suffer:
Being named and shamed over a loudspeaker system.
Body searches after every shift. 
A '6 strikes and you're out' policy. You can get strikes for:

Chatting too much
Spending too much time in the toilet
Being sick and unable to attend work
Being sick and need to leave work early 
When workers fear being sacked, they are unable to challenge bullying behaviour. Women and migrant workers suffer the worst of it, with new workers referred to as "fresh meat". Teachers nearby say parents send their children to school sick as they are afraid to take a day off work to look after them.
Shops: Sports Direct is a business built upon precarious contracts. Over three quarters of their shop staff are on zero-hour contracts. They are not using precarious contracts to manage changes in workload management, but because these contracts give them the power to exploit workers. 
Poor conditions are rife throughout Sports Direct. 
1) email your MP today to demand they act to End Precarious Contracts and Stand with Migrant Workers. 
2) Order your tags and oin the great SportsDirectShame high street re-brand
3) Follow the campaign on Twitter, using the hashtag #SportsDirectShame 
Join the conversation
RT @WarOnWant: The city authorities in Durban are violently and illegally evicting people during the Covid-19 pandemic. Take actio… https://t.co/OzmcQwnljy
—
20 hours 33 min ago
Tell hospitality and fast food companies to stand with their workers during the Covid-19 crisis. Workers deserve… https://t.co/oC21ooaVPa
—
1 day 18 hours ago
Stand in solidarity with the shack dwellers: sign the petition to end the evictions! https://t.co/nMWzYIBk7c
—
1 day 23 hours ago