#SportsDirectShame - High Street Rebrand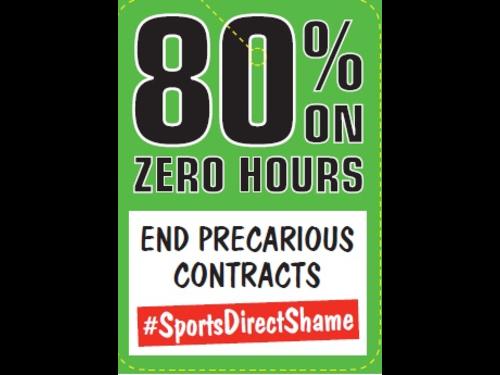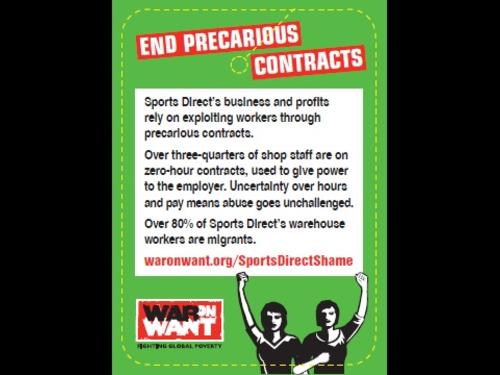 Join the great #SportsDirectShame high street rebrand
Media exposes and attention in parliament are piling on the pressure for Sports Direct to treat its workers better. We've printed thousands of alternative price tags which expose the reality behind Sports Direct business: precarious contracts where workers are afraid to speak out against racism, sexism and abuse for fear of losing work. Together we can expose the reality behind the brand to the people they really care about – the people who shop there. In the run up to the company's AGM (7th September), let's get thousands of these price tags onto Sports Direct products in shops up and down the UK.
Join the big high street re-brand and get as many Sports Direct products tagged as you can. We're guessing that while there's nothing wrong with leaving some 'gifts' on Sports Direct products, the shop security might not be thrilled, so you may need to be subtle or creative if you want to tag a lot of Sports Direct goods. The battle against Sports Direct treatment of its workers is a battle against zero hour and precarious contracts everywhere. If Sports Direct isn't stopped, then other companies will follow suit.
How to take part
1. Order your clothing tags here.
2. Find your nearest shop Sports Direct has stores across the UK so there's bound to be one near you. Usefully the Sports Direct website has an interactive map showing their shops in the UK.
3. Get tagging Hit the high street and see how many Sports Direct products you can tag. You can do it whenever you want, but ideally in the run up to their Annual General Meeting on 7 September.
4. Share your stories To get as many people as involved as you can, share pictures of your rebranded Sports Direct products or let us know your stories of how it went and how many products you managed to        tag. You can: 
Get out on the streets and expose the Shame behind Sports Direct
Download this guide by clicking on the link below:
Join the conversation
The lessons from #Grunwick are clear: Only by standing with migrant workers and ending precarious contracts can we… https://t.co/3rx1Gu6zKG
—
7 hours 13 min ago
Today marks 40 years since the #Grunwick strike started. The lessons are as relevant now as they were then: the lab… https://t.co/Xaw5Ax9uYu
—
8 hours 8 min ago