Deliveroo Drivers Speak Out for #RooUnion
15 December 2016 - 10:30am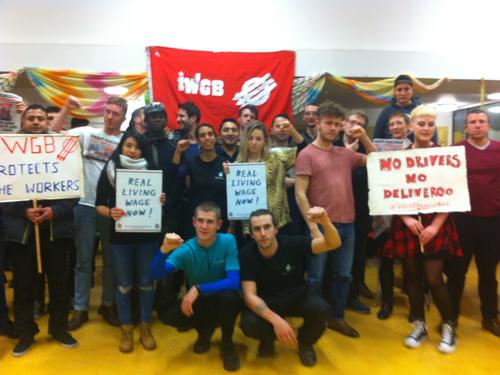 Deliveroo hit the headlines in August when drivers in Camden staged a strike in response to a change in the way they were paid.
This was a reaction to the rise of the 'Gig Economy',  where the use of technology to automatically distribute tasks between workers is combined with employers defining their workers as 'independent contractors' rather than workers or employees, who have more rights. This can leave workers who depend on this work with no sick or holiday pay, and no insurance if they are injured at work. 
Following the unofficial strike, the IWGB, a small independent union that mostly organises migrant workers has been campaigning to win union recognition for Deliveroo drivers.
The following are the words of Deliveroo drivers who spoke at a meeting organised by the IWGB: 
Edu's Story: 
Hello Everyone, my name is Edu and I've been  working in Deliveroo over the last ten months. When I started I just was working  nine hours per week during  the two first months. I called and texted them and they told me "it's a proof period" so at the beginning I didn't make any money but the point is, when you call them or go to the office the feeling is like they don't care about you, don't care if you have a problem or if you have a crash. I think the company only care about showing the Deliveroo logo around the town. At the moment I haven't had any big problem or any crash but in a long term I'm afraid that this could happen. 
I don't want to change my job because I love to work with the bicycle around London but at the same time we don't have any rights, we don't have any insurance, we don't have benefits. Basically Deliveroo don't give a shit about us. Because for this type of companies is easier to contract new people and victimize current workers like my friend Ben.
Those are the reasons why I supported the strike back in August and joined the IWGB union. I believe if we are unionized we'll can achieve greater things and rights.
Thanks all for coming today.  
Jim's Story: 
I started working for Deliveroo in August, about two weeks after the worker-organised strike that won some concessions from the head office. With this in mind I was obviously a bit wary about working for them so I started doing a bit of research into Deliveroo and similar companies like Uber – the big dogs of the 'sharing' economy.
Over the next couple of months I was 'deactivated' twice by Deliveroo, both times without reason, notice or explanation. 'Deactivation' is gig-economy speak for being fired. Because you can only contact Deliveroo about employment queries by email, this 'deactivation' once lasted for two weeks – that's two weeks without being able to work, without getting paid, sending off emails hoping and waiting to be rehired again.
The research that I had been doing about the company told me that my experience was typical, and that the Deliveroo model – pushing the costs of its labour off the books and hiding them behind a shiny app – was so successful it was only a matter of time before it became the norm.
That's why I joined the union. IWGB is the only union that has reached out to us, workers typically deemed impossible to organise, to help us fight for the rights we deserve as Deliveroo workers. With IWGB we are in the middle of a campaign which I am hopeful will improve our working rights, and help legislate against the exploitation of other workers in the rapidly growing 'gig' economy.
Join the conversation
"The UK must implement its own export guidelines, and stop its material support for war crimes abroad." There's now… https://t.co/aeD6Q7oKKI
—
13 hours 43 min ago